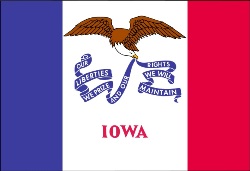 Kisses may last for as much as, but no more than, five minutes.
A man with a moustache may never kiss a woman in public.
One-armed piano players must perform for free.
Dubuque: Any hotel in the city limits must have a water bucket and a hitching post in front of the building.
Fort Madison: The fire department is required to practice fire fighting for fifteen minutes before attending a fire.
Indianola: The "Ice Cream Man" and his truck are banned.
Marshalltown: Horses are forbidden to eat fire hydrants
Ottumwa: "It is unlawful for any male person, within the corporate limits of the (city), to wink at any female person with whom he is unaquainted."